Blockchain - The Helping Hand for Healthcare Industry

BlockChain! Bitcoin!
You might have heard about any of these words or both. Let's talk about Blockchain -the rising star in the tech world. Let move towards its origin, back in 2008, Blockchain did its debut with Bitcoin. Back in the days, people used to think of both, Blockchain and Bitcoin as same, but of course, that was not the case. It's safe to say that now people are becoming more aware of Blockchain and are investing in it to explore it. Originally, it was said that Blockchain was only for transactions within two parties without the need of any intermediator but lately people have discovered its unexplored areas and acknowledged its potential in other fields as well and as a result are investing in Blockchain, to discover the alternative ways of using it.
Marc Kenigsberg, who is one of the world's leading Bitcoin affiliates says, "Blockchain is the tech. Bitcoin is merely the first mainstream manifestation of its potential."
It can be said that this is merely the beginning and there is definitely a lot more for us to see in Blockchain.
WHAT IS BLOCKCHAIN AND HOW IT WORKS?
We have already read an overview of Blockchain, let's dive into it a bit more. Some of us still don't have the idea of how blockchain works or what it is. Here's how we can put Blockchain in a simple and understandable manner. Blockchain can be defined as a distributed ledger, i.e. the ledger is spread across all the peers in the network, and every one of them holds the original copy of the ledger. Blockchain follows decentralized democracy i.e. it's an ideal example for democracy system. There is no transaction cost which means all the transactions are transparent resulting in the prevention of any kind of fraud.
Working of Blockchain can be explained in the simplest way: It's a record of transactions.
You can have a better understanding of the working of the Blockchain Technology with the help of the graphic below: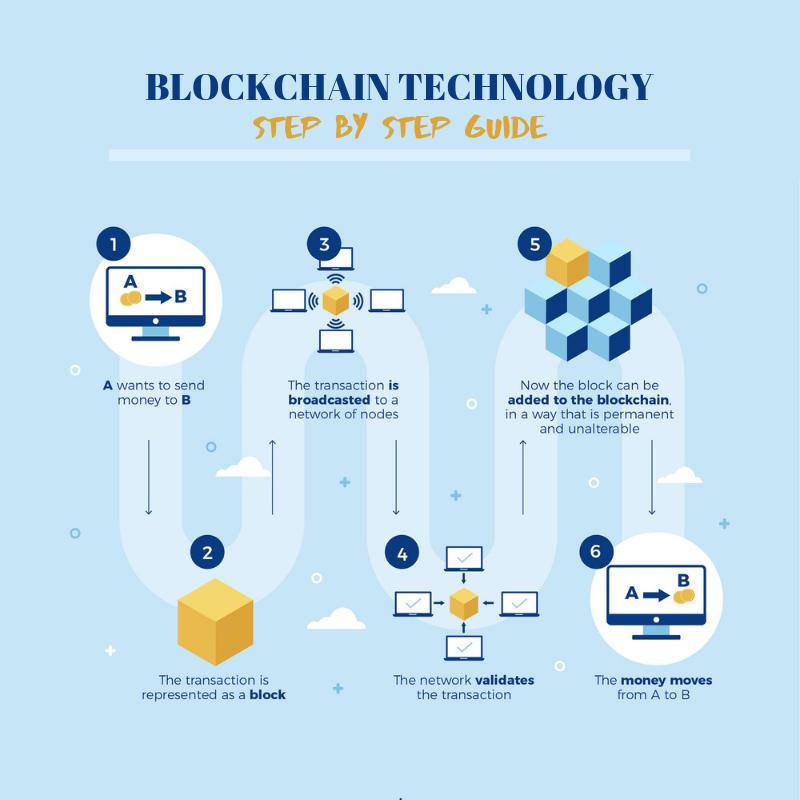 Source: Freepik
BLOCKCHAIN AND HEALTHCARE
Blockchain has been welcomed by various industries in the past decade. Be it Finance, Retailer, Entertainment, Food or HealthCare, or any other industry. Every Industry is willing to invest in Blockchain in order to give itself massive exposure. Let's check its effect on the Healthcare Industry!
Back in 2018, Guardtime, a leading blockchain industry in the UK, launched its own health record platform which is working on blockchain technology. Blockchain in Healthcare Industry is playing a vital role as the medical data like the patient's name; description, lab reports, images, medical bills, etc will require a large amount of space and it is nonetheless to say with Blockchain every data can be stored effectively. Illegal practices which were conducted in the past due to the opaque nature of transaction now can be prevented easily.
According to Global Market Insights, Use of blockchain technology in pharmaceutical companies was valued at around USD 21.5 million in the year 2018.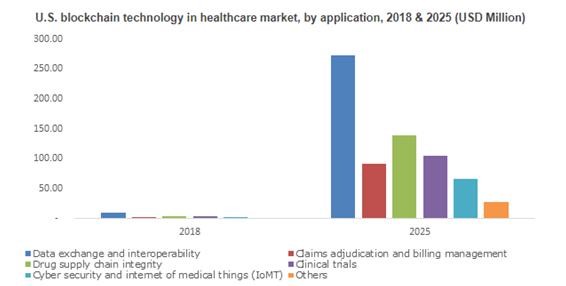 With this being said, according to UCS Bureau, more than 91.2 million Americans were covered by healthcare insurance, out of which Medicaid provided insurance coverage to 19.4% and Medicare accounted for 16.7% and 16.2% availed insurance services by direct-purchase.
It's clear that for maintaining the real-time record of the insurance, the companies can use blockchain technology in the near future.
Blockchain is helping the Healthcare industry in numerous ways. Few are explained below:
Record Keeping: We have previously discussed the amount the storage required to store the data of the patients. The issue of storing large data effectively can be resolved easily and now there'll be no paper work and the data stored can be referred to in the future when the need arises.
Monitoring: Unlike traditional methods now patients can specifically choose to whom they want to share their records with or not. They can monitor every transaction or any exchange with Blockchain technology.
Transparent Transaction: When there are thousands of files and records being maintained in an organization, they are high chances of record missing and altering of records. The real-time transparent transaction feature helps in preventing fraud and errors.
CONCLUSION
Blockchain is in itself developing. Different industries who are willing to invest in Blockchain are bound to see the growth in the near future.
Blockchain in the Healthcare industry is a remedy to tie the loss end for the industry. Blockchain has many advantages and it can be said that adaptation of Blockchain in Healthcare is just for betterment for the pharmaceutical industry. It can be said that the blockchain and Healthcare industry is going hand in hand, helping each other evolve.