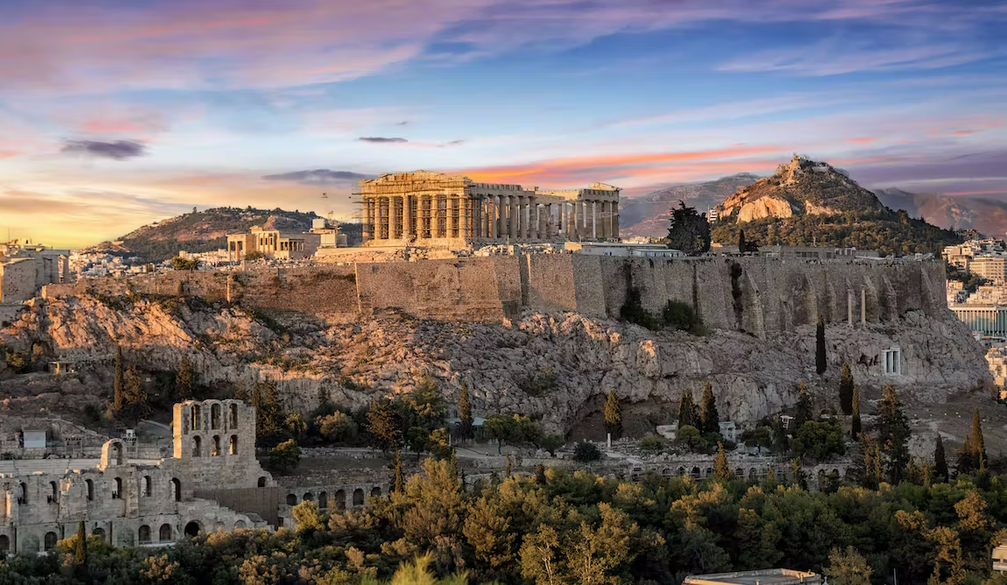 Greece is an amazing country with many beautiful places, rich history, and culture. Every year, millions of tourists from around the world visit it to see the recognizable architecture with their own eyes. The country has everything you need for a vacation - historical monuments, beaches, traditional taverns with delicious local cuisine, cozy hotels, and islands. For those who want to visit Greece, we offer a list of the most popular tourist destinations:
The island of Santorini is a volcanic island in the Aegean Sea, which is considered one of the most beautiful in the world. It is officially called the island of Thira. It gained its popularity thanks to its white houses with blue roofs, which look very impressive against the backdrop of a volcano. Santorini is also famous for its beaches - Kamari, Perissa, Red Beach, where you can sunbathe, swim, and try local delicacies. Winemaking is practiced on the island, so you can try wine from local vineyards on the slopes of the volcano. Santorini is a great place for those who want a romantic vacation with their partner.
Crete is the largest island in Greece, located on the southern coast of the Aegean Sea. The island is attractive with its beauty, historical landmarks, beautiful beaches, mountains, and national parks. In its capital, the city of Heraklion, there is the famous Knossos Palace, dating back to the 16th century BC - the largest residence of the king, which includes more than 1000 rooms and halls of different purposes. On Crete, you can visit beaches or visit villages. The island is famous for its mountain ranges and national parks, where you can take a walk and go mountain climbing.
Athens is the capital of Greece and one of the most popular tourist cities. Here you can visit the Acropolis - the elevated and fortified part of the city, the so-called upper city. Other famous places in Athens are historical landmarks, such as the Theater of Dionysus, the Roman Agora, and the Temple of Olympian Zeus. There are also many cozy cafes and restaurants in the city, where you can taste national dishes such as Greek salad, moussaka, and fasolada.
Zakynthos is one of the most beautiful islands in Greece, famous for its white sandy beaches and blue water. One such beach is "Shipwreck" - a beautiful sandy beach where you can see a sunken ship that has become one of the main attractions of the island. In addition to this, on Zakynthos, you can visit the main city, where you will see Bochali Castle, Castle of Kastelli, and Monastery of Anafonitria.
Rhodes Island is recommended for those who love the combination of beautiful nature, sunny beaches, and ancient monuments. The symbol of the island is the medieval city of Rhodes, which was built by the Knights of Saint John in 408 BC. It was included in the UNESCO World Heritage List. On the island, you can bask on the beaches of Elli, Faliraki, Lindos, or get healthy at hot springs and spa resorts.
Corfu is an island located on the northwest coast of Greece in the Ionian Sea. It became popular thanks to its rich history, cultural sites, picturesque landscapes, and beautiful beaches. Among the latter, Paleokastritsa, Glyfada, and Sidari are popular. On the island, you will see monasteries, castles, ancient Greek temples, parks, and gardens.
The island of Mykonos is remembered by many for its nightlife. Young people love to relax here, as there are many nightclubs, clubs, and bars on the island that work until late at night. Mykonos also attracts those who love to sunbathe on the beaches in peace. Among the most famous tourist beaches are Paradise, Super Paradise, Elia, and Psarou.
In general, Greece is an amazing country in Europe where every traveler will find something interesting and unique for themselves. Regardless of what type of vacation you prefer, Greece is ready to offer many options for the perfect holiday. The favorable Mediterranean climate is conducive to relaxing and sunbathing on beaches, swimming in crystal-clear water, or taking a tour of historical monuments. By the way, many tourists choose the latter option. And to see the maximum number of attractions, they use car rental in Greece.


Attractions in Greece
Our culture and architecture originate from Greece. Hundreds of thousands of tourists visit the country every year to admire its beauty and learn more about its history. Here are some of the most popular landmarks in Greece:
The Acropolis in Athens is an ancient fortress built in the 5th century BCE. This is one of the most famous landmarks in Greece. It includes several structures, such as the Parthenon, the Erechtheion, and the Propylaea. These structures were created in honor of the goddess Athena, who was considered the protector of the city. From the Acropolis, one can enjoy a beautiful view of Athens.
The ancient sanctuary of Delphi, dedicated to the god Apollo, who was revered as the god of light, music, healing, and prophecy. The city is located on the slopes of Mount Parnassus in the central part of the country. In addition to the ancient ruins, one can see archaeological excavations of the temple of Apollo, a theater and a stadium, as well as the Delphi Museum of History, where unique exhibits are displayed, such as the bronze Chorus parade.
Meteora Rocks is a unique natural and historical site in Greece, located in the region of Thessaly. It is a huge complex of monasteries built on the summits of sandy rocks, which rise above the valley of the Peneus River. The Meteora Rocks were formed millions of years ago as a result of geological processes, and the monks chose these impregnable summits to create their monasteries. Today there are six monasteries on the rocks, inside of which are museums with valuable relics, icons, manuscripts, and other artifacts related to the religious and cultural history of the region.
Mycenae is an ancient city that was built in the 14th century BC. Mycenae was one of the centers of ancient Greek civilization and was famous for its powerful walls, built of huge stone blocks. They still amaze visitors with their size and quality of workmanship. In this city, tourists can see ancient ruins such as the Lion Gate, circular tombs, and citadel, as well as visit a museum dedicated to the history and culture of the city.
The city of Olympia became famous thanks to the first Olympic Games held in 776 BC. There are ruins of ancient temples here where religious rituals were held, as well as the Olympic stadium. One of the most famous objects in Olympia is the temple of Zeus, built in the 5th century BC and was one of the most magnificent temples in Ancient Greece. There is a museum in the city where valuable artifacts are kept, including ancient sculptures and luxury items.
Corinth is an ancient city in the Peloponnese, built at the intersection of trade routes between the western and eastern parts of the Mediterranean. The city was one of the most prosperous in Ancient Greece. In 146 BC, Corinth was destroyed by Roman troops during the Corinthian War and was never restored to its former glory. Today, tourists in the city can see ancient ruins of temples, the acropolis, fountains, theater, and other ancient structures.
Greece is an amazing country, rich in cultural and historical attractions, as well as natural beauty. In addition to the already mentioned places, it is worth visiting the city of Rhodes, the city of Thessaloniki, the temple of Zeus in Neapolis, the ancient theater of Epidaurus, and much more. Each of these places has its unique architecture and history that will make every traveler want to come back here again.

Comfortable travel in Greece
If you are planning a trip to sunny Greece on your own, you need to consider organizational matters to make your vacation as comfortable as possible. For those who love the freedom of movement and do not want to adjust their usual rhythm to the bus schedule, we recommend renting a car. This way, you can plan your route and explore the country at your own convenience. Cars in Greece can be rented on the website of a rental company. Fortunately, the country has good internet coverage, and some public places in Greece offer tourists free Wi-Fi.
Many travelers rent a car upon arrival in Greece to be able to visit all the corners of the country and see everything before their departure. The advantages of renting a car in Greece are:
1. Freedom of movement
With a rented car, you have the opportunity for unrestricted freedom of movement throughout Greece, without any time or route limitations. Imagine how many tourist destinations, remote beaches, and mountain villages you can visit, which may be inaccessible by public transportation. By moving around by car, you can always stop at any moment for photographs or a picnic in nature.
2. Convenience
You can receive a rented car at the airport or in the city center. In addition, you can place an order for a car online or by phone, and the car itself will be waiting for you in a convenient location. Moving around in a rented car is a pleasure - there is no need to carry bulky bags and suitcases with you.
3. Time and money savings
A rented car is an economical option compared to using taxis or public transportation, especially if you are traveling with family or a group of friends. You don't have to wait for a bus, so the entire trip will be without delays and unforeseen situations.
4. Safety
When driving a rented car, you are responsible for your own safety on the road. Companies that offer rental services maintain their cars in good condition and regularly send them for technical maintenance. Additionally, you can choose a car with a navigation system and other modern technologies that ensure safety and comfort during your trip.
5. Entertainment
With a car in Greece, you can fully enjoy the freedom of movement. This way, you can go to the beach to catch the sunset, visit archaeological sites and museums, explore traditional villages and local markets to try out products and buy souvenirs. If you use public transportation, you will have limited time for all activities, and the higher the risk of not being able to do everything planned.
6. Flexibility
You can choose a car based on your needs and budget. If you are in Greece for the first time and don't know which car is better suited for your planned route, you can consult with a rental company manager. They will help you choose a car that can drive on sand and gravel and allow you to travel comfortably and safely. Rental companies offer additional services such as insurance, GPS navigation, and child seats.
7. Explore remote places
A car makes it convenient and easy to reach the most remote places in Greece that are not accessible by public transport. In addition, it will be easier for you to find a secluded corner on the beach rather than being crowded on one spot with other tourists.
Renting a car in Greece provides travelers with great freedom and allows them to visit the country's cultural sites that are not accessible by public transport. However, on Greek roads, one should be extremely cautious, follow traffic rules, and adapt to local conditions. The roads in the country are quite narrow, with uneven surfaces and many turns with slopes. Therefore, when renting a car, you should be prepared for the peculiarities of Greek roads.