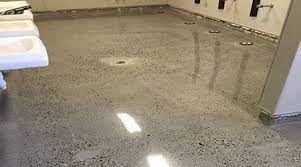 As far as concrete floor finish is concerned, the grind and seal deliver stunning high-shine results. This kind of polish is relatively new for a high-quality and luxurious finish.
Grind and seal is also an effective and economical process for beautifying concrete floors in institutional facilities, homes, manufacturing plants, garages, showrooms, and retail stores.
The Look of Grind & Seal
Most individuals like the appearance of grind and seal finishes, which may take on various looks, depending on the final sheen and color. You may choose the sheen of the finished look. If you need high sheen, experts recommend urethane or epoxy coating that might be clear. Though if you need a matte finish, an acrylic sealer can be a great option.
When it comes to color, you may choose to stain concrete to change its look. If you will get too much traffic, don't want to spend a lot of money, and offer less maintenance, an acrylic sealer will work just great.
How to Choose Grind & Seal System
There are many concrete grind and seal systems. You may choose one that works for your needs or pick the best depending on how you want the floor to look.
Afterward, you may choose the right type of sealant. This might be water or oil-based with a matte finish, satin, or glossy. Sealers also differ depending on the total number of coat applications to achieve the desired appearance.
Grind & Seal Process
Immediately you lay your concrete slab, give it around 1-4 weeks for it to cure. When it comes to new development, professional contractors prefer grinding the slab before the construction begins. In this stage, contractors will expect you to be on-site so as to approach the amount of exposure you request. If the construction project has begun or it is an existing home, experts may prefer to leave off skirting boards.
In many cases, contractors will first pass the concrete with a grinder so as to get rid of contaminants from the surface. At the same time, they will grind concrete for a second time with finer diamond tooling so as to make the floor smooth and free it with contaminants. Afterward, they will clean the surface and color it with a dye or stain before sealing your floor with various seal systems.
Advantages of Grind & Seal
Among the key advantages of floor resurfacing over other types of concrete procedures is that it can work with any granite exposure. The level of exposure refers to the number of concrete stones and rocks, which are exposed. Basically, there are three kinds of exposure associated with grind & seal concrete. This includes full exposure, partial exposure, and zero exposure.
Full exposure grinds away different layers so as to expose a maximum number of stones, while partial exposure only takes off deeper layers from the surface of the concrete. As for zero exposure, you will take off the top layer of coating. Basically, this is what you may see in a garage or warehouse. Apart from granite exposure, there are other advantages of grind and seal, including:
Low maintenance

Slip resistance

Lower cost

Bacteria resistant
Concluding Remarks!
When you see your flooring fall apart, you may feel you don't have a lot of options. Laying tiles or adding hardwoods is expensive, particularly if the look doesn't fit your style.
For some individuals, refinishing their concrete subfloor is a great option. It provides homeowners with a beautiful finish, which outlasts other types of flooring.