EMPLOYING PALLETS AND ITS BENEFITS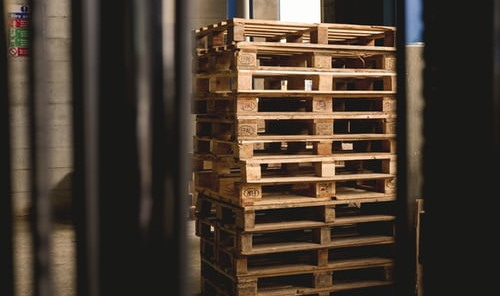 Pallets are usually wooden crates or interlocked wooden panels that are employed mainly to store and transport goods from one place to another. Plastics, metals, and compressed, fluted paper have also broadened the material range of pallets. Broadly, in the wooden type, there are two variants of pallets. One made out of pine which is more popular than the other of oak.
Given that pinewood is relatively more available, packaging, logistics, export and transporting companies prefer them more. The pallet suppliers aim to meet the same demand, by lumbering pine trees. One can also make pallets with the extra wood that remains after carving furniture.
Benefice of Employing Pallets
Warehouses and storerooms often employ pallets to ease the load of goods for loading and unloading activities. They ensure safety to the goods placed in between, or on them and offer trustworthy grip to the lifting jacks, machines for convenient transfer of loads. Standard dimensions of pallets vary according to the purpose they are subject to. They are available in smaller to larger versions in inches of length and breadth. Various items, consolidated into a single unit, can help in efficiently stacking items on a single pallet, indicating the latter's strength.
Higher weight-bearing capacity, along with being cost-effective in case of their affordability is a wow feature for their customers. The metal framing enhances the same for pallets. While weighing the goods along with pallets, the wooden pallets beat the metal pallets for being of lower density, than the solely metal-bodied pallets. This property allows more stacking of goods with wooden pallets, for a prescribed load transfer when compared to loads of metal pallets.
One can creatively reuse pallets in stacking objects. These also come in expandable versions to meet the base area of the good to be stacked. Their reversible and recyclable nature grants them a new lease of life with longevity.
Types of Pallets
According to the configuration of pallets, they exist in many forms. Roto-moulded pallets have hollow inside, for hygiene concerns. Steel frames, along with the more formidable versions of plastic, are used to increase a pallet's load tolerance.
Deck board pallets, used in warehouses, homes etc., are the most popular to sight. In two layers the wooden, metal or plastic panels are decked. One can lift these from any direction as the panels cross each other, providing the same configuration from all sides. Stringer pallets are improvised versions with cracked slats of the deck board pallets. The injection-moulded pallets are recyclable, available in a variety of colours and textures.
Double face pallets, though hollow inside, have two broad, sides, rid of cracks, for rough and tough tasks. Other types of pallets include solid deck pallets, with the upper side completely closed, used more like a stand and double wing pallets, both of which are useful for heavy-duty works.
Conclusion
The bulky goods carrying industries involving ports, shipments, cargoes, loads on trucks, freight etc. prefer to pack and load the items for safe delivery to the concerned destinations. Pallets of different types enable the packaging, stacking and transferring process with ease. Industries explicitly design these to bear with the weight of goods placed over them. Multiple stacking with layers of pallets in between helps in better transfer of goods, heavier or otherwise, to aid to today's fast-paced world.
Author Bio: Ester Adams is an experienced independent content writer with a demonstrated history of working in the writing and editing industry. She is a multi-niche content chef who loves cooking new things.