Adina Apartment Hotel Brisbane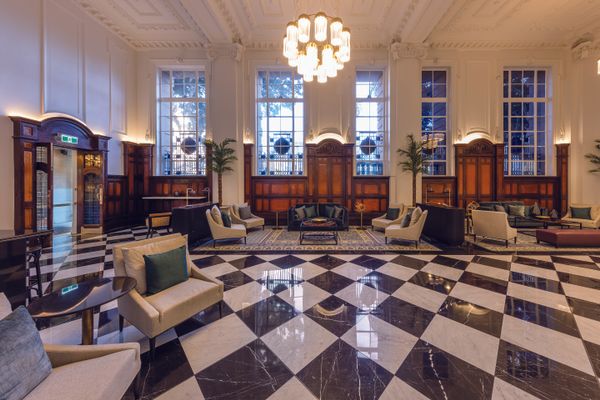 TFE Hotels has opened the doors of the spectacular new Adina Apartment Hotel Brisbane, which offers stunning views over the Brisbane River and awe-inspiring interiors that transport guests back to the grandeur of the early 20th century. On the corner of George and Elizabeth streets in the city centre, this beautiful new hotel is housed in a restored Heritage-listed building that was completed in 1922 to accommodate the Queensland Government Savings Bank. The hotel now offers 220 luxurious rooms and suites, and includes an extra five levels designed to complement the historic building, with expansive views and balconies for many of the rooms.
The banking hall has been transformed to accommodate a new hotel lobby and restaurant, with a bar below. The lobby celebrates the building's 1920s origins, with impressive double-height original timber-panelled walls and ornate ceiling roses. The gym is alongside a heated pool on the ground floor, which is enclosed on each side but open to the Brisbane sky. The hotel is also close to the Brisbane Convention & Exhibition Centre and Queensland Performing Arts Centre in Southbank, ideal for event and delegate stays.
TFE Hotels Chairman Allan Vidor said, "The hotel creates a real point of difference for the Brisbane market, with its magnificent sense of history, and its wonderful setting, just a few steps from the waterfront and close to the heart of the city. Guests at the hotel will be able to easily take advantage of all of the attractions in Brisbane including those listed at school holiday activities brisbane. This will be a flagship for the Adina brand, which has developed since its beginnings in Sydney in 1982, into a collection of apartment hotels in Australia, New Zealand and Europe."
Typical of the Adina brand, the apartments are spacious and contemporary, providing guests with the comforts of home. Each apartment combines its own kitchen, laundry and living room with the ease of full hotel services including 24-hour reception. This hotel brings a new level of luxury to the Adina brand, as "Your Preferred Address", with luxuriously appointed rooms, quality finishes and TFE Hotels' new signature Dreamcatcher bed.
The ground floor restaurant, Donna Chang (the name is a tongue-in-cheek reference to a Seinfeld episode) will open soon. It is described as a "dining experience for the senses" that gives a gentle nod to Sichuan flavours and authentic Cantonese cuisine. The restaurant is a much-anticipated opening,
by Ghanem Group, the team that created Blackbird Bar & Grill on Eagle Street Pier.
Donna Chang brings together a stellar line-up of industry leaders, spearheaded by Executive Chef Jake Nicolson (formerly of The Lakehouse in Victoria, Spain's El Bulli and The Ledbury in London), Head Chef Jason Margaritis (formerly Spice Temple, Melbourne) and 2014 Good Food Guide Sommelier of the Year, Penny Grant. Below the restaurant, a 250-seat bar called Boom Boom Room will fuse avant-garde design with an inspired cocktail list to form an opulent basement-level lounge. The bar will be housed in the space where the bank's vaults once were, providing a visually dramatic setting.  
TOGA Group orchestrated a careful and sensitive renovation of the original building with Tanner Kibble Denton Architects. The eight-storey Queensland Government Savings Bank was built from 1913 to 1922, with construction hampered by material shortages throughout World War I. Once completed, it was considered exceptional, particularly the ground floor banking chamber with its immense size, ionic columns, detailed cornices and marble finishes.
Project Architect and Senior Associate at Tanner Kibble Denton Architects, Angelo Casado, said the team initially expected to add three levels over the existing 10 level building but had managed to win approval for five after careful analysis of the building structure and design.
"The project required planners and architects to strategically navigate the governing development and Heritage approval pathways, to ensure both the site potential and building fabric was maximised and respected," he said. "The result is a high standard, quality construction, modern architectural design that is elegantly informed by its heritage base and appropriate for the premium Adina brand."
Rooms are available at 25% off introductory rate, starting from $135.
To book visit https://www.adinahotels.com/hotel/brisbane/
ABOUT ADINA APARTMENT HOTELS
Adina Apartment Hotels offers the modern explorer apartment living with space to stretch out in the heart of a neighbourhood, with do-it-yourself experiences and the ease of hotel services. Contemporary living and working spaces with kitchens and laundries encourage guests to enjoy a truly local experience with the help of knowledgeable and friendly hotel teams. One-bedroom and two-bedroom apartments or studios with kitchenettes offer stylish and comfortable spaces in which to entertain, unwind, work or relax. Facilities such as 24-hour reception, room service, fully equipped gyms and boutique meeting facilities deliver a full-service apartment hotel.
www.adinahotels.com  
Facebook @AdinaApartmentHotels
Instagram @AdinaHotels
ABOUT TFE HOTELS
TFE Hotels, headquartered in Australia, is an international hotel group operating in Australia, New Zealand, Germany, Denmark and Hungary. TOGA Far East Hotels (TFE Hotels) was established in 2013 as a joint venture, bringing together two long established businesses, The TOGA Group's TOGA Hotels, and the hospitality arm of Singapore's Far East Orchard Limited, controlled by the privately owned Far East Organisation. With the property development and real estate ownership DNA of both groups, TFE Hotels has earned its reputation as the "developer's hotelier" and "owners' operator" with an end-to-end hotel design, development and management capability. Today, TFE Hotels comprises 72 hotels with 10,000 keys in Australia, New Zealand and Europe under six brands, with more than 30 more hotel projects under various stages of development.
Adina Apartment Hotels in 36 locations in Australia, New Zealand and Europe.
Other locations coming soon include Sydney, Melbourne, Fremantle, Canberra and Munich.
Medina Serviced Apartments in 4 locations in Australia.
Vibe Hotels in 9 locations in Australia.
Other locations coming soon include Sydney, Melbourne, Adelaide and Hobart.
Travelodge Hotels in 18 locations in Australia and New Zealand.
Other locations coming soon include Auckland, Sydney and Adelaide.
Rendezvous Hotels in 6 locations in Australia and New Zealand.
TFE Hotels Collection include Hotel Kurrajong Canberra and Gambaro Hotel Brisbane Australia.
Other locations coming soon include The Calile Hotel Brisbane and The Britomart Hotel in Auckland.
www.TFEhotels.com
Social Media: @tfehotels