7 Benefits of Cooking with a Carbon Steel Wok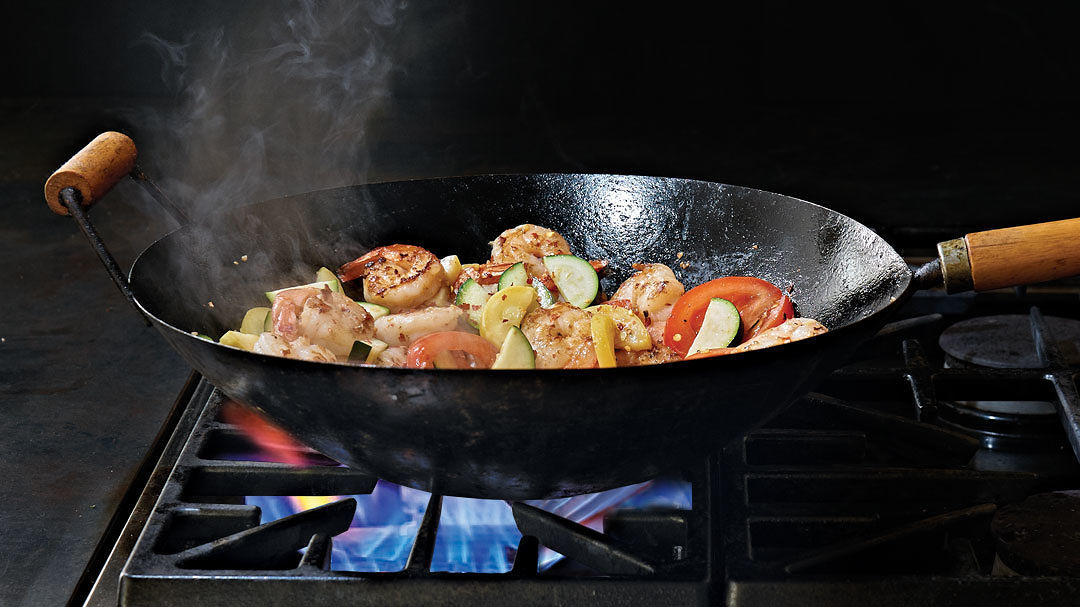 There is nothing better than cooking a tasty dish bursting with flavor in just a few minutes. Our fast-paced lifestyle makes it essential for us to be able to prepare healthy and nutritious meals as quickly as possible, by using as little equipment as possible. Well, you only need one – a good old sturdy wok. There are many benefits of cooking food with a wok, especially if it is made out of carbon steel, so read on to find out.
Prepare food quickly
No kitchen tool heats up as quickly as a traditional steel wok. This makes it perfect for searing, stir-frying, deep-frying, and even boiling since the temperature rises very quickly. The unique round-bottom shape makes the heat distribute evenly, so it is perfect for preparing your favorite stir-fries in just a few minutes. By constantly stirring ingredients over high heat, you make sure that they are evenly cooked through. Cooking food quickly ensures that it keeps its texture and freshness, without the risk of overcooking or becoming soggy and flavorless.
Prepare flavourful food
Have you noticed how stir-fries are usually bursting with flavor, and you cannot seem to be able to replicate it at home? Well, a lot of that flavor comes from the way the dish is cooked. The stir-frying technique can only be achieved in a proper wok since you can constantly stir food over high heat and sear in the natural flavor of the ingredients. To top it off, you can easily distribute spices and seasoning evenly, so that they coat every bite. Moreover, the ingredients retain their natural texture, so you will not have mushy vegetables or dry overcooked meat.
Prepare everything in one pan
What is most appealing about this kind of pan is that it is extremely versatile, yet practical. You can make a wide variety of foods, not only stir-fries, with the help of a single pan. Deep-frying vegetables and meat, making soups, noodles, sauces, searing, poaching, and so much more is possible with just one wok. It takes up much less space in your kitchen since one wok does the work of multiple pans and pots.
Prepare bigger or smaller amounts of food
The shape of the wok gives you the freedom to make various amounts of food, without burning or drying out. Since they have a round bottom, you can evenly cook both a handful and a larger amount of food. If you live alone or just want to make one serving of noodles or egg fried rice, or even fry an egg, it will sit comfortably at the bottom, just like in a bowl. On the other hand, the raised sides make it possible to cook larger volumes of food, without making it soggy or soaking in fat.
Carbon steel cookware is healthier
When deciding on what type of work to get, our advice is a sturdy carbon steel wok. Well-seasoned carbon steel develops a beautiful patina that acts similarly to a non-stick coating but is much more long-lasting and healthier. Additionally, non-stick pans are made with harmful materials that can leak chemicals into your food when heated and Seasoned Carbon steel is non-reactive, which means it's ideal for cooking foods that might react with other types of cookware (like acidic ingredients) Moreover, carbon steel heats evenly and quickly, making it perfect for searing meat and developing a lovely crust on it. You don't need any special utensils or tools to cook with carbon steel – just use what you have in your kitchen. Carbon steel pans are thin and strong and can be used on any type of cooker from induction to gas.
Carbon steel is very robust but lightweight
Another advantage to buying a wok made out of carbon steel is that it is much lighter than cast iron or stainless steel. This is perfect since there is a lot of tossing and stirring involved with cooking in a wok, so you need it to be as light as possible, but at the same time hard-wearing and durable. They also come with a second helper handle to make it easier for you to lift or toss it when it is filled with food to the brim. They are also good for glass top stoves as the cookware is not heavy and so reduces the risk of cracking the glass.
It is long-lasting
Another plus side of a good-quality steel wok is its durability. A well-seasoned wok can last you a lifetime. But if you neglect it or mishandle it, a steel wok can easily rust. Every newly-bought wok should be seasoned before use, and when properly cared for and stored after use. A new wok is usually covered in protective oils and dust, so you must burn that off over high heat. Evenly heat your wok until it goes from grey to brown, then black and blue. Then remove it from the stove and slowly cool it with water. Once you have rinsed off any debris, heat it again to dry off. Once it has dried, add about a tablespoon of vegetable oil and heat it over a low fire, tilting it to coat it evenly. Once it gets an even coating, continue heating it for about a minute, then wipe off the oil with a paper towel. Now your wok is seasoned and ready for your first meal prep. After each use, you should wash it and re-season it.
A carbon steel wok is exactly what you need for cooking healthy delicious meals quickly. When cared for properly, they will last you probably your whole life. Lighter than stainless steel, and without the harmful chemicals that come with non-stick options, there is nothing better than a carbon steel wok for cooking a wide variety of dishes, not just stir-fries.