Barbie time: how to build the ultimate outdoor kitchen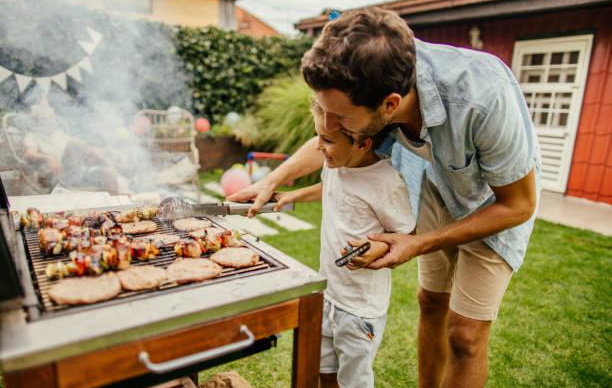 A stunning outdoor kitchen is the dream for many homeowners. The elegant pergola, the pristine decking, top quality cooktops - it all combines to make the ultimate outdoor entertainment area!
But to make the best outdoor kitchen you need to do a little planning, deciding what you need and, more importantly, where.
There is so much to choose from: outdoor fridges, BBQs, BBQ covers, furniture - the list goes on!
With that in mind, here are a few tips for ensuring your outdoor kitchen is one that your family and friends can't wait to get around to in the summer.
Determine what the kitchen is for
You don't want to go rushing into buying all these top class appliances and luxe accessories if you only plan to cook for a few people. What's more, it's also a good idea to pick up appliances that are suitable for how you will be cooking.
Do you plan on creating great feasts? Or, do you just want a comfortable situation so that you don't have to keep running inside and out for all your goodies?
Once you define your needs for the outdoor kitchen, planning your budget and the layout becomes so much easier.
Maximise your outdoor potential
Having the best cooking appliances is one thing, but what if you are unable to enjoy this awesome luxury once the weather turns?
Creating a stellar outdoor kitchen is also about creating a comfortable entertainment area, complete with temperature control and coverage. Consider installing block out blinds around your pergola so that even on the hottest days and coolest nights you can keep out the extremities.
You may even want to install an outdoor heater - not only are these an amazing investment for comfort, but they also look great and add to the stylish aesthetic of the entertainment area.
Are you a barbie legend? Or an all-round masterchef?
Sure, the classic barbie is a favourite for New Zealand homes, but what if you want to take your cooking skills to the next level? The awesome thing is that you're not restricted to simply installing a BBQ in your outdoor kitchen, with plenty of appliances performing other cooking roles and doing it well.
Pizza ovens, rotisseries, wok burners and more can all be added into the outdoor kitchen to suit the style of cooking you will be doing. But, hey, if you're a barbie legend, then you can focus your design around the BBQ and optimise your skills on this outdoor cooking necessity!
Layout is essential
Obviously, you're not going to pick up all your amazing new appliances and just start plopping them around the garden - you have to put your design skills to the test in order to maximise style, space, comfort and weather protection.
Take a good look at your space and envision your dream layout - where will the barbecue be? What about that luxurious outdoor lounge? You don't want to impede on the ability of family and friends to move freely in the area as this isn't fun for anyone (and could even be dangerous around the cooktops!).
Layout is key - draw up a plan of your area and start considering where things will go. You can even create little cutouts of the different appliances/decor you will have and move them around the design.
Light it up!
Lights are essential for an amazing outdoor area: they should be bright enough to cook when the sun is going down but not too bright in the dining/lounge area (as this can be unpleasant for your guests).