Dr Felix Reveals Results of Comprehensive New Survey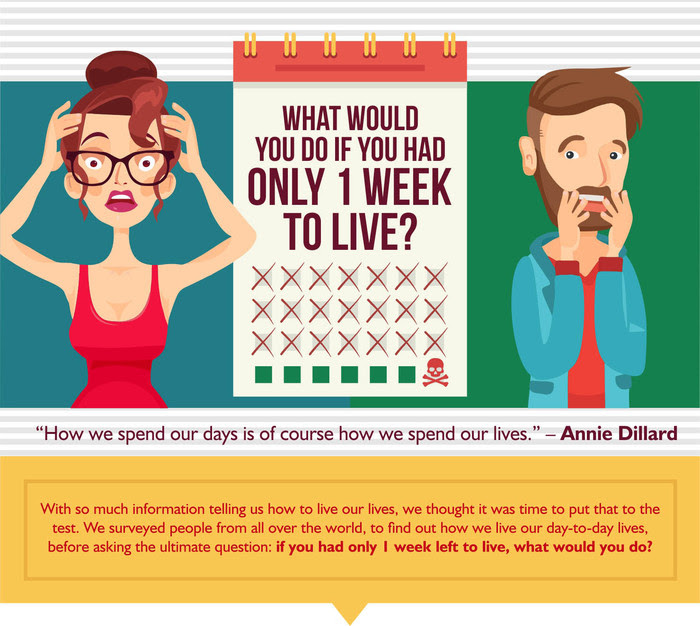 What Would You Do If You Had One Week To Live?
Just over one in four of us would prioritise spending time with family if we had only one week left to live according to a comprehensive new survey by Dr Felix, the UK registered online doctor and pharmacy service.  With thoughts of New Year's resolutions riding high and January deadlines out in full force, the online doctor wondered what really counted when it mattered most.
Dr Felix's resident health editor, Tamsin Nicholson says, "We conducted a comprehensive survey of over 2000 members of the public asking them about how they spend their time and how this influences how they feel on a day-to-day basis. Most importantly, we wanted to know what they would do if they had just 1 week to live and which of their daily habits and interests would feature. With the New Year upon us, we hope that it can help people to priorities what's important and make the most of their New Year's resolutions. The results were really surprising."
As part of the latest survey, Dr Felix researchers asked thousands of people how they typically spent their time – with between 30 and 45 hours per week on average spent at work, this was by far the most dominant activity, compared with an average of less than one occurrence of social or family time per week.
With so much time spent working, it's surprising to note that a lot of the average person's free time is spent on unfulfilling tasks and activities, with around one to three hours each day lost to procrastination and up to five hours a week used up completing chores. Social media scrolling and TV viewing also saps precious time, accounting for up to six hours per week collectively.
With almost no time for activities such as religion or personal development either around work and chores, it should come as no surprise that over half of respondents said they felt anxious every day, while 31% felt guilty on a daily basis, and 29% sad or depressed each day.
 "We spend half our life sleeping and a big chunk of time at work so it can be hard to find enough hours in the day for what's actually important. The average person sees their family less than once a week, but that was the most important thing to 45% of our survey respondents if they had just one week to live. Surprisingly, this didn't seem to have an effect upon the happiness of people on a day to day basis, but it did influence how angry and regretful people felt," adds Nicholson. "Therefore, spending more time on those things that really matter can have a positive effect upon your emotional health. We hope that people can use our findings to think about how they live their lives and what is most important to them."
When asked the big question, 45% said that spending time with family would be a priority with just one week to live. For 23% travel would be the most important thing, while 11% would prioritise seeing friends.
To view the results in full, visit: https://www.drfelix.co.uk/1-week-to-live/ or find out more about Dr Felix: https://www.drfelix.co.uk.
About
DrFelix is a UK registered Online Doctor and Pharmacy service offering discreet and affordable prescription treatments online without having to see your doctor face to face.