10 Most Used Makeup Products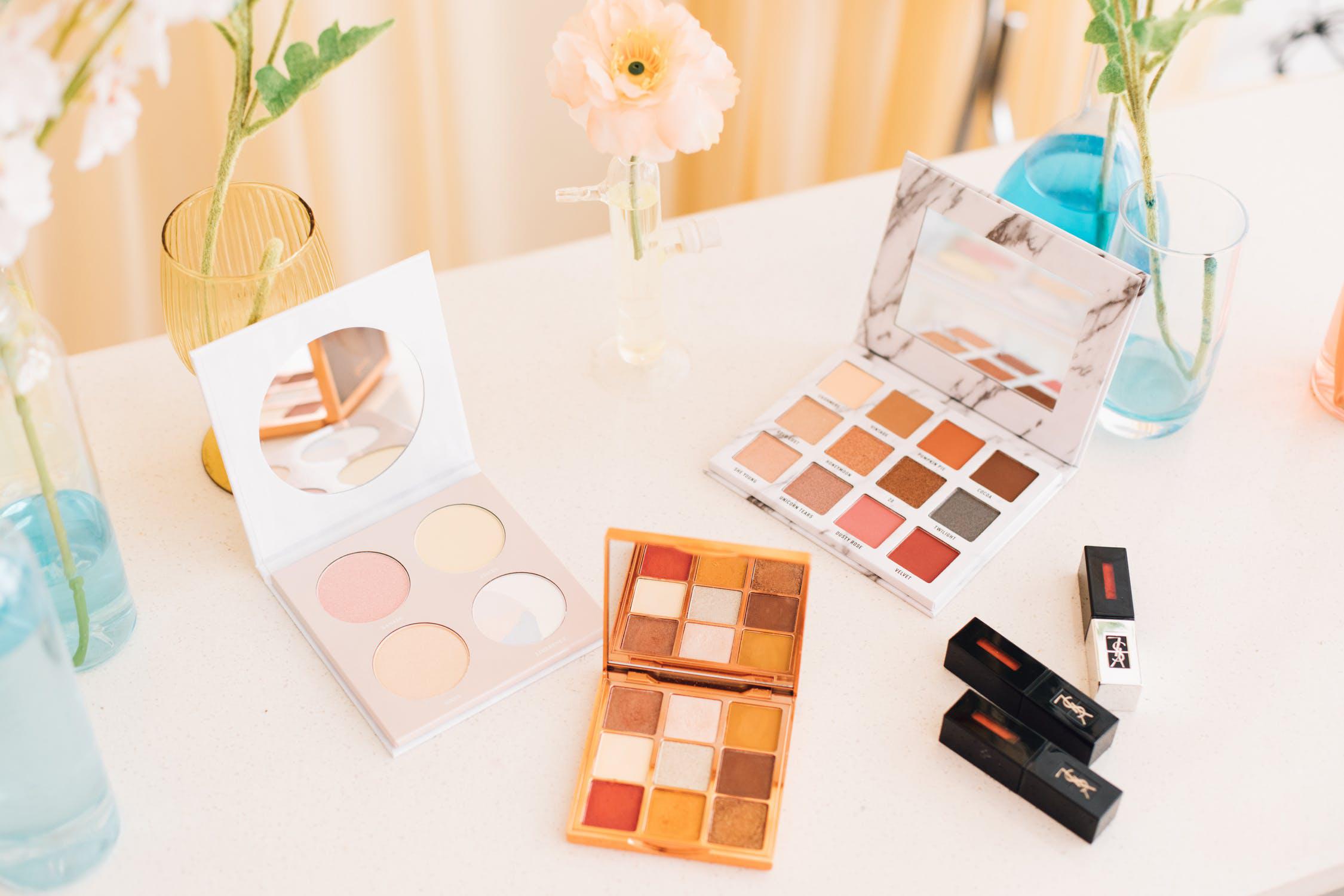 When it comes to makeup, we all have a few favorites. It could be a lip-gloss that you always carry in your purse, or one of those lash-elongating mascaras, whatever it may be, you may have a few makeup pouch essentials.
Makeup is a woman's best friend, they say. It enhances your physical appearance and gives a boost to your confidence. Also, there is a myriad of different types of products that you can use to suit your needs and requirements, such as if you prefer cruelty free makeup, many well-known brands offer several relating products.
If you are someone who loves makeup, read along to get a fun insight into the top ten most used makeup products in the beautiful world of cosmetics.
Lipstick:
Without a doubt, lipstick or lip gloss is one of the most used makeup products of all time. It is because without adding some color to your lips, your makeup would look half-finished. Imagine going out with eye makeup on and skipping your lips, now would not that look strange?
Besides, your lips are one of the most prominent features of your face, leaving them colorless would be a sin! Moreover, lipstick is always at the rescue in case of an emergency. Whenever you may have to run to an unexpected event after work, putting on a popping bright red lipstick would make you look prim and proper without much effort.
Eyeliner:
The next in line for the most used makeup products is an eyeliner. If someone does not do much makeup, they do put on eyeliner. It is because an eyeliner accentuates your eyes ten folds, and there is also not much effort required inlining your eyes.
However, putting on a winged liner may necessitate some expert skills. Eyeliner is a staple in every girl's makeup stash. A shiny, jet-black eyeliner is a must-have makeup product. If you are thinking about starting your makeup learning journey, you should first of all, start with getting a smooth and sleek eyeliner.
Mascara:
Extremely easy to apply, mascaras are an essential eye makeup tool. A good quality mascara would provide your lashes with a beautiful curl and length that would help focus attention to the eyes. Mascaras come in different wand styles, which offer several purposes, such as elongating the lashes, thickening them, making them look darker or more curled. It is vital to purchase the mascara that suits your eyes and enhances your eye look.
Mascara is one of the most utilized makeup products in the cosmetic industry since its origination is not relatively new, and it has been in the makeup field for ages. Eye makeup without an appropriate mascara coat looks incomplete and lacking.
Foundation:
Putting on a base for your makeup is the most fundamental and initial stage of your face décor. Without prepping up your skin with a matching foundation, you pretty much cannot further onto any other steps. A foundation smoothens your skin and hides away all the blemishes and spots if any. It gives your skin a smooth finish so that you can swiftly put on the rest of the makeup. A makeup look is unfinished without a proper foundation, and it is by far one of the most enjoyable cosmetic products.
Face Powder:
Now that you have used a foundation, face powder is a must to follow. The objective of the face powder is to firm out the base application. A foundation is often a gooey, gel-textured material; hence, a setting powder is necessary to firm out the application of the foundation. Also, a setting powder provides your makeup with a finished, presentable look. It removes any greasy, shiny look that may come on your face because of the foundation. It also provides a smoother surface for the application of the blush-on, bronzer, etc. Consequently, face powders have become a staple in a woman's makeup stash.
Concealer:
Concealers have recently become a fad. Women are now getting well-aware of how to use makeup to hide those unwanted marks and spots on the face. A concealer works like magic. It can hide those dark eye circles, vanish those acne marks, or cover the blemishes.
Concealer can make your skin look flawless. When you are super worried about that new visitor on your face in the form of a pimple, a concealer can help you cover those uninvited guests. Also, a concealer helps pop out your makeup. A right corrector topped with a matching foundation and face powder provides a fantastic base for a beautiful eye and lip makeup.
Blush-on:
We all love the rosy, flushed cheeks look, do not we? It gives the makeup a more natural and original feel. A blusher also works as a skin tone enhancer. If applied on darker skins, a blush-on helps brighten the face, whereas it can give fair-toned skin a slightly warmer look. A cream-based blusher can be used to provide extremely dry skin with a dewy, shiny look, whereas a powder blush can matte-up an oily face. Adding some color to those cheeks gives a nice touch to your overall makeup look, which is the reason why a blush-on takes a spot on the most used makeup products' list.
Bronzer:
If you are someone who has a round face and loves sculpting it to give a shaped look, you would know the importance of a bronzer. A bronzer can work two ways; you can either use it to provide yourself with a sun-kissed and tanned summer look or use it to shape your face. Regardless of whichever way you plan to use the bronzer, it is a significant add-on in your makeup stash. The use of bronzers became a substantial talk of the town over the last decade when the sculpted and boned look became the hottest trend. It has since then become a renowned member of the most-used-makeup-products club!
A Basic Eyeshadow Kit:
Nothing too fancy, but a basic eyeshadow kit is what every girl owns. It is your go-to when you have to pull off an extravagant makeup look. An eyeshadow kit that you swear by with the most basic and trusted colors that suit your skin and face is one of the most commonly used makeup products for women and teenage girls alike.
Highlighter:
We all admire that 100-watt glowing makeup look. The main component behind such a look is a ravishing highlighter. Highlighters provide your face with a dewy, natural glow, which gives the onlooker a perception of healthy, shiny skin. Using a highlighter became the last decade's most popular trend, and today, it is one of the most commonly used makeup products.
Conclusion:
Makeup is an excellent tool to enhance your beauty and outlook. With the proper skills and some fantastic beauty tips, you can master the art of makeup. Get hold of a few of the most commonly used makeup items, build your stash, and make a start on your journey to look more beautiful and attractive.