11 Suggested Material Base to Use for Painting and Printing Signage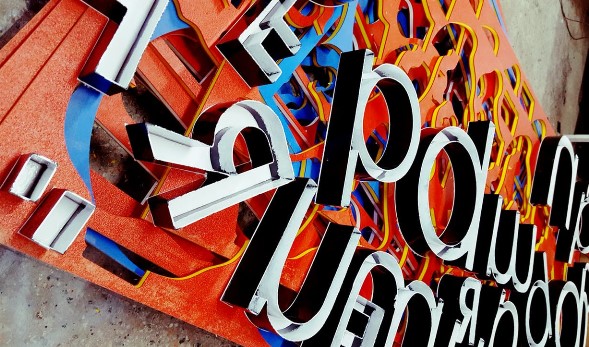 Choosing the perfect material could help you in producing spot-on signages. It is not easy to paint nor print rough and uneven bases. Hence, an exceptional base should be used to generate appealing signs. Start with knowing the following various materials before choosing the right one.
Acrylic
For a classic and sophisticated look, acrylic or plexiglass could give your signage a glossy finish. Also, as it is made from Methyl Methacrylate monomer, acrylic has excellent tensile strength. It is malleable so withstanding many physical strains would not be a problem.
You could also modify something on these acrylic signs effortlessly. These materials are preferably used for indoor rather outdoor, though. This kind of base can be largely seen on office interiors, retail shops, and trade shows.
Aluminate
Aluminate is always referred to as one of the best material as it does not crack, peel, chip, or flake easily. It is also thick and sturdy. Apply aluminate on cut-outs, billboards, channel letters, fence or wall mount, and digital, and laser painting.
Aluminum
If you are looking for materials that are easy to use, you could try aluminum. It is available in a wide range of colors and sizes. It does not rust immediately, so it was considered to be one of the best exterior materials. The letterings on it usually have superb output, as well. Use aluminum for Real Estate and No Parking Signs.
Carved Wood
Carved woods are best when looking for materials that are stronger and could last longer. These kinds could also provide a firm and smooth base that could be suitable for other painters' likings due to its medium density overlay panel (MDO) component.
MDOs tend to be a weather-resistant overlay. This overlay resists weather, water, degradation, and wear, and contains at least 27 % resin. It is connected to the wood through pressure and heat. Use carved wood in Highway and Traffic Signs, Sign Panels, Billboards, and Site Signs.
Coroplast
Coroplast is made out of corrugated plastic. It is one of the most cost-effective and lightweight signage material yet could have a longer lifestyle only if used indoors. You could use it outdoors but just for a temporary purpose. Use coroplast for directional signage, logo display, trade shows, and special events.
Dibond
Dibond is another material that could be used under extreme weather conditions. The inside of it is made of solid Polyethylene, while the outside is made of aluminum. Hence, it is light and has a professional look. It could be used both outdoors and indoors. Mount Dibond signs on either walls or poles.
Foam Board and Foam Core
For signage that is transportable, use materials like foam boards and cores. This rigid and light base has a smooth surface that is easy to be laminated, so it is best for mounting colored graphic or digital images. Use foam board and foam core for welcoming signs, directional signs, trade shows, conference, and other kinds of events.
Metal
Metal signages, known as a hard base, are durable. However, be careful with scratches as it would be visible on metals. Make sure to give extra care when cleaning it and place it away from sharp edges. Use a metal base for directional information and service signs, or publicize rules and regulations and have a look of Custom Metal Shieldco business signage for samples.
Neon
Neon materials are outstanding at night. Neon signages are prominent to the most ingenious 24/7 Virtual Marketing tool. Its super bright color scheme could easily attract the attention of many customers. It could be used inside and outside. Neon signs could easily be seen on round-the-clock places like restaurants or cafe, and even for retail advertisements.
PVC
For quality and professional projection, polymerizing vinyl chloride (PVC) is the best signage material. It gives a matte finish that lessens the glare factor. It could also easily conceal fingerprints.
PVC is also highly durable and has a medium weight. You could cut this material to any preferable shapes. Use bright colors and simple fonts to have a better signage look when using PVC. Deploy a PVC base for business logo, name tags, or nameplates.
Styrene
Compared to corrugated plastics, styrene is more durable. It is flexible yet rigid. Due to its thickness, it is most of the time a dent free material. You could print styrene signs single or double-sided in full color with a full bleed. Use styrene signs for interior store signages.
Takeaway
Before choosing materials, make sure to fix up your budget margin first. Costs should always depend on the specific outreach goal of a product. Mind your audience first before thinking the color, size, and text of your sign to make sure you could gain more than what you spend.