The Makers Take Exhibition: July 27 in Brisbane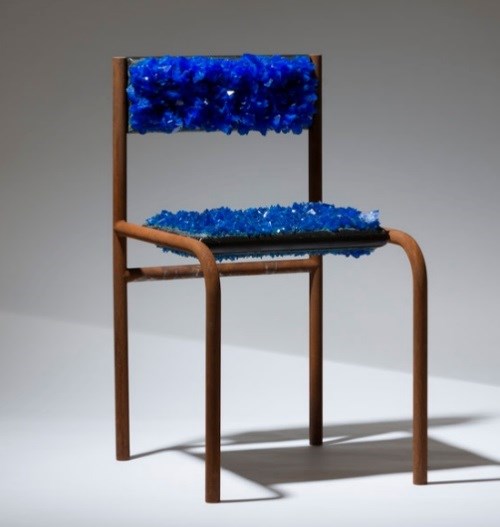 See the hottest seats in the country (literally) at The Makers Take Exhibition: July 27 in Brisbane
Over 20 of our best furniture designers & makers on show at UAP
In an opportunity that will have fans of furniture design in a frenzy, The Makers Take Exhibition will happen on Friday July 27 and will feature the work of over 20 of the country's leading designers and makers (see list of all designers below with their locality noted). 
Open to the public and FREE, The Makers Take will also spotlight established and emerging artisans from South East Queensland & Northern New South Wales, with many of the exhibited items available for purchase on the night.  The exhibition will be held at UAP, the studio responsible for designing and fabricating some of the most standout projects in art, architecture and design in Australia, and the team behind the curation of the Queen's Wharf Development public art program.
Co-founder of the exhibition platform, technical designer at UAP and Furniture Designer, Chris Miller, said The Makers Take was created to give designers a forum to celebrate their craft, and the general public an opportunity to see and touch some of the best designs of 2018.
"We were looking for a way to help promote our local designers and the unique works they create. Because the current market is flooded with cheap imports, it's actually quite difficult to go to a retailer and find locally made and designed products. We wanted to create a platform for fellow designers and makers in South-East Queensland and Northern New South Wales to come together for a night of celebration and help grow this small industry which is made up of some extremely talented people. While leading furniture design is often viewed as the bastion of Europe, North America and particular the Scandi countries, Australia and South East Queensland is home to some extraordinarily talented designers, and these names will be at The Makers Take on July 15."
"We started The Makers Take to give our local designers and makers a forum here in Brisbane where they could show their works, and where the general public could come and view them – because previously there was no such opportunity, we look forward to welcoming fans of furniture design on July 27!"
Over 20 designers will be exhibiting, along with some very interesting standouts to look for: Nicolette Johnson is fast becoming one of Australia's most talked about ceramicists, with her amazing mix of shape and colours. Tom Fereday's designs were seen everywhere at Denfair in Melbourne this year, including the SIA Chair, which has recently won gold at the Good Design Awards. CJ Anderson was selected as a finalist for Denfair's Front/Centre Emerging Designer, Kajewski Miller was selected in Sydney's WORKSHOPPED exhibition for the past two years and Hunchmark has his work on display at the Institution of Modern Art in Brisbane.  A number of the new designers are also working across Australia, with Josh Abel having a new commissioned series of furniture to be exhibited at Denfair Sydney, JD Lee and Lee Sinclair being announced as VIVID 2018 finalists and Lee Sinclair also being included in Denfairs Front/Center exhibit.
THE MAKERS TAKE Exhibiting Designers:
A New Woodworks - anewwoodworks.com.au (BRISBANE)
Bhavana Nook - bhavananook.com (BRISBANE)
Fluxwood Lighting - fluxwoodlighting.com (BRISBANE)
Giovanni Veronesi - shapeways.com/shops/eumetry (BRISBANE)
J.D Lee Furniture - jdleefurniture.com (MULLUMBIMBI, NSW)
Karl De Waal - instagram.com/karldewaal (BRISBANE)
Lee Sinclair Design- leesinclairdesignco.com (BRISBANE)
Tov & Co - instagram.com/tovandco (BRISBANE)
We Are Waltz - wearewaltz.com (GOLD COAST)
Nicolette Johnson - nicolettejohnsonceramics.com (BRISBANE)
Tom Fereday - tomfereday.com (SYDNEY)
Martin Johnston - martinjohnston.com.au (BILLINUDGEL, NSW)
Søktas - soktas.co (GOLD COAST)
CJ Anderson - cjand.com (GOLD COAST)
Jay Jermyn - jayjermyn.com (GOLD COAST)
Kajewski-Miller-   kajewski-miller.com (GOLD COAST)
Daniel Wilson Studio - danielwilsonstudio.com (GOLD COAST)
Hunchmark - hunchmark.com (GOLD COAST)
Josh Abel - jrabel.com.au (BRISBANE)
Ray Dunlop - (GOLD COAST)
Rye. (Ryan McGoldrick - Sydney) - ryedesign.com.au (SYDNEY)
Elliot Bastianon - elliotbastianon.com/ (GOLD COAST, lives in CANBERRA)
The Makers Take Exhibition
Date: Friday 27th July
Time: 6pm-9:30pm
Venue: UAP Warehouse, 41 Holland Street, Northgate, QLD 4013
What: Showcase of locally-made & designed furniture and homewares, as well as entertainment, food & drinks.
Currumbin-based, Balter Brewery, will be providing drinks and Veople will entertain during the event that will appeal not only to people in the design or manufacturing industries, but also to those seeking inspiration for their own homes.

FEATURED EXHIBITORS:
Hunchmark's Animal Chair
For this exhibition, Hunchmark has been working with a chainsaw artist in South-East Queensland to produce a reading chair carved from a solid stump of timber from the base of a native Gum tree. The stump which is usually left to rot after a tree has been harvested for timber, will in this case be able to be utilised for a functional chair.
Tom Fereday
As part of the 2018 Milan furniture fair Tom Fereday launches a limited-edition series of the SIA chair. Made entirely in Sydney Australia, the SIA chair was forged from solid aluminum and bronze to re-interpret the slender articulating chair in a new light. The SIA chair, meaning movement, was named after its unique adjustable backrest. The SIA chair was the winner of the Mercedes-Benz design award and launched with NAU Design.
Elliot Bastianon (* image)
Growth Sites has its roots in contrast, both visual and metaphorical. Steel components are covered in a velvety layer of red rust, while others are encrusted in a strange, electric-blue crystal bloom. The crystals are brilliantly beautiful, but not nice. The pieces in this collection are symbols of furniture that have been hijacked and subverted; rendered unusable via an infestation from an unsettling crystal growth.
CJ Anderson - Soigne Chair
Exhibited recently at Denfair for Front and Center emerging designer awards - CJ has recently had a son and has found an appreciation in designing objects that bring the childlike wonder out in those who experience his pieces.
His current piece the SOIGNÉ armchair explores the relationship we have to societal norms of being an adult.
Copper Table by Kajewski Miller
Inspired by an industrial aesthetic the copper column is made up of 12 faceted faces with a colourful patination shown on the outer surface, which is then strikingly contrasted by a highly polished internal face. From a distance the polished inner surface isn't visible due to the refraction of light on the glass top and only upon close inspection does it become clear that there exists an alternate face.
Jay Jermyn - 127
Jay Jermyn's previous work as a designer naturally gravitated towards a sharp clean aesthetics. 127 consists of a flat powder coated aluminum table top intersecting a shard like black rock, commonly used on the Gold Coast's breakwalls. These breakwalls hold the fabric of the coast developments together and protect them from instability. It's this diversity that makes up 127's distinction.
Daniel Wilson - Desk Chair
The Desk Chair is a modern take on the traditional lecture room chair and desk. While the armrest provides a small desk with built in storage, the removable lamp ensures the user will never be in need of a well-lit space to work at. The simple material pallet is complemented by the basic forms and square edges to provide
a continuation of Daniel's flexible and playful objects to use around the house.