Remote Learning: Tips & Tricks for Teachers & Parents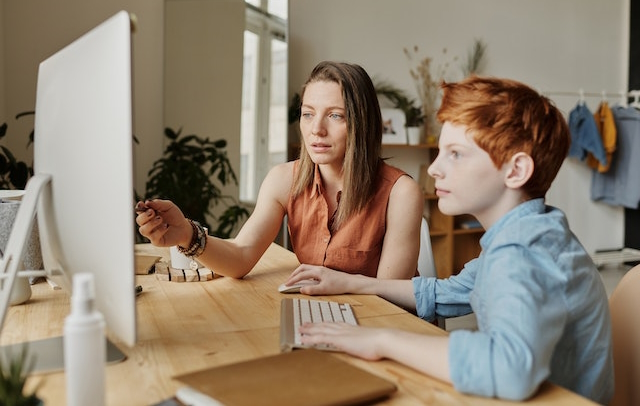 As more and more schools have been forced to move to online or remote learning due to the COVID-19 pandemic, many students have found it hard to stay engaged with their new classrooms. Online learning has advantages, such as more flexibility in the schedule and removing the physical barriers that can sometimes cause learning issues. However, staying focused on schoolwork can also be challenging when there are no teachers or classmates around to keep you motivated. Here are some tips to keep students engaged with online schooling.


Set up a Dedicated Learning Space:
One of the most critical steps to stay focused on your remote learning is to set up a dedicated learning space in your home. This should be a place where you can focus without any distractions. Consider using a desk or table with a comfortable chair and adequate lighting and having all of your supplies within easy reach. Avoid having TVs or other electronic devices that can be distracting in this space, and try to make sure that it is a quiet place away from other family members if possible.

Choose a Dedicated Space
Choose a space in your home that is quiet and free from distractions, such as a desk or table with a comfortable chair and adequate lighting.

Establish a Comfortable Work Area
Set up a desk or table with a comfortable chair and adequate lighting to complete your studies efficiently.

Gather Supplies
Gather all the supplies and materials you will need for your remote learning, such as books and notebooks, pens and pencils, laptops, and other electronic devices, and put them within easy reach of your learning space.

Create a Focused Environment
Make your dedicated learning space free from distractions like TVs or other noisy electronics. If possible, try to ensure it is away from other family members so you can focus on your work without interruption.

Create a Schedule:
Make a daily schedule to help you stay on top of your work. You can use a paper planner, online planner, or an app like Google Calendar to structure your days, assign tasks and give yourself reminders or deadlines. Set aside time for breaks throughout the day so you don't burn out, and plan enough time to complete your assignments.

Creating the Right Environment
Make sure that your workspace is conducive to productivity. Create an organized environment and minimize distractions to keep you focused. Invest in supplies like a good chair, desk, and laptop to create a comfortable workspace.

Set Up Your Daily Schedule
Decide when you'll do your work, including any breaks. Plan out which tasks to focus on and when, and set reminders or deadlines for yourself. Use a paper planner, online planner, or app to help you stick to your schedule.

Take Breaks Regularly
Make sure to rest throughout the day so you don't experience burnout. Schedule regular breaks of 5--10 minutes after intense work periods.

Track Your Progress
Write down your daily goals, and take note of completed tasks or those that need extra attention. Please keep track of how long it took to complete specific tasks and adjust your daily schedule accordingly.

Monitor Technology Use:
Many schools now use online platforms to deliver classes, so it's essential to establish guidelines around technology use and monitor usage. If necessary, block access to certain websites or limit their computer use time.

Establish Guidelines
Create a set of rules and expectations for students regarding the responsible and appropriate use of technology to ensure a safe, educational, and productive environment.

Monitor Usage
Keep track of student usage of technology, including websites visited, applications used, and other activities taking place online to ensure that rules are followed.

Open Educational Resources
You can utilize open educational resources for grades K-12 like digital back services, online tutorials, webinars, and more to provide students with valuable learning materials.

Implement Digital Backchannels
Digital backchannels allow teachers and students to communicate discreetly during lessons, providing an outlet for questions, feedback, and discussion. This is a great tool for developing a collaborative learning environment.

Conclusion
Remote learning can be an adjustment for parents and students alike, but these tips can help make the process easier for everyone involved. With patience and understanding from both parties, remote learning can be an effective tool for continued education during these unique times.