Lake Macquarie Creative LAKE outdoor art exhibition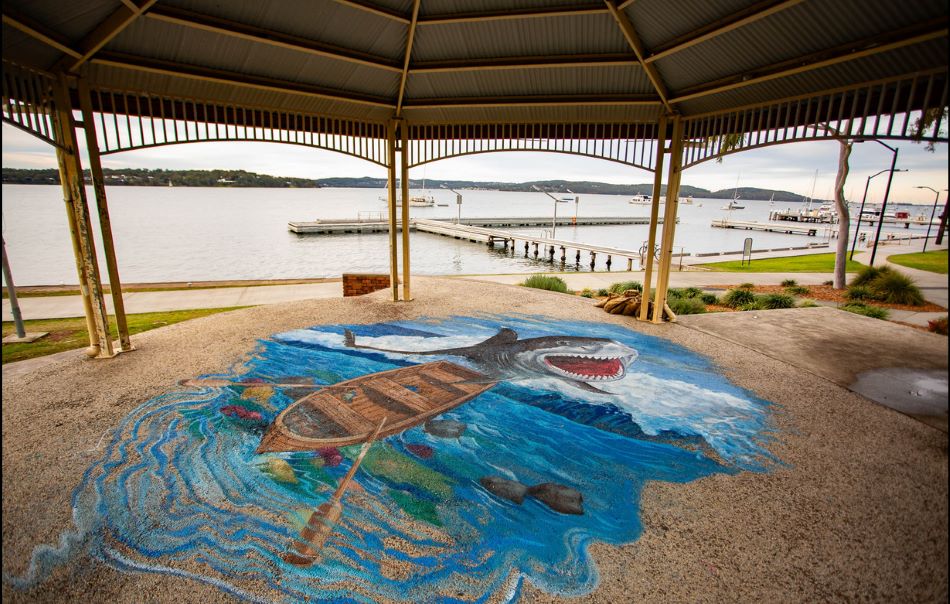 Lake Macquarie residents and visitors alike can now enjoy the newest addition to the region's burgeoning art scene, Creative LAKE, an eagerly anticipated public art and sculpture experience situated along the beautiful foreshore of Lake Macquarie.
Creative LAKE unvieled several unique artworks this July including a bronze sky pig, a young monk, a dingy, a granite hibiscus and 3D graffiti murals. Each of the artworks can be discovered in popular locations along the Warners Bay, Eleebana, Toronto and Belmont foreshores.
Brought to life by Lake Macquarie City Council and the Commonwealth-funded Tourism Demand Driver Infrastructure program, the Creative LAKE trail builds on Lake Macquarie City Art Gallery's existing Sculpture Park, boosting the number of highly visible outdoor elements on offer to visitors.
Each sculpture is the work of established contemporary artists both from Australia and overseas, with featured artists including Guan Wei, Guy Maestri, Naidee Changmoh and Antone Bruinsma, to name but a few. The artists were chosen to entice locals and visitors to enjoy a fresh perspective on the lake, whether exploring by bike, car, boat or on foot.
Guan Wei has earned an international reputation for large installations that combine imagery from mythology, fantasy, history and the present, drawing upon his experiences of both Chinese and Australian cultures.
Thai ceramic artist Naidee Changmoh is recognised for his cartoon-like monk sculptures which represent positivity, peace and simplicity.
Beach Blossom, inspired by the native hibiscus, was created by NSW-based sculptural artist Antone Bruinsma. A celebration of nature and community, each petal contributes to the beauty of the whole, whilst also respecting individuality.
Guy Maestri is an Archibald Prize winning contemporary Australian artist who has exhibited internationally. His bronze sculpture Darwin questions our historic penchant for immortalising the past in sculpture.
On a more playful note, two 3D floor murals were commissioned especially for the foreshores of Belmont and Toronto by a team of artists led by Scott Jansen, who has created a series of fun and immersive 3D images and optical illusion sin the classic trompe-l'oeil style – ideal for the requisite social media selfie.
"The Creative LAKE exhibition will help visitors discover public art in surprising places, from sculptures to 3D murals to virtual reality," said Jacqui Hemsley, director of Creative LAKE. "We're setting the standard for the future of creative experiences and public urban art projects in the Lake Macquarie region," said Ms. Hemsley.  
For both locals and tourists, Creative LAKE isn't the only new cultural tourism offering in the Lake Macquarie region.
The Lake Macquarie Tourism Cultural Trails are four new trails bringing together the best of the region's arts, heritage, cultural and indigenous attractions, ranging from historic sites to street art.
Virtual Awabakal is an exciting new virtual reality experience sharing three unique and fascinating stories from the region's indigenous Awabakal people, which has been created by immersive cultural heritage artists Brett Leavy in consultation with the community. Visitors can enjoy the virtual reality experiences via their mobile or tablet, at the City Art Gallery or using a headset at various locations around the city to journey 250 years back in time to when the Awabakal people were the only inhabitants of the region.
Other ways to experience Lake Macquarie's most historic significant sites include via a series of interpretive panels bringing the past to life at locations including Toronto, Redhead Beach, Swansea Heads and Catherine Hill Bay.
To plan your winter adventure or discover more of what Lake Macquarie has to offer, please visit: http://www.visitlakemac.com.au