Get the on-trend industrial look in your bathroom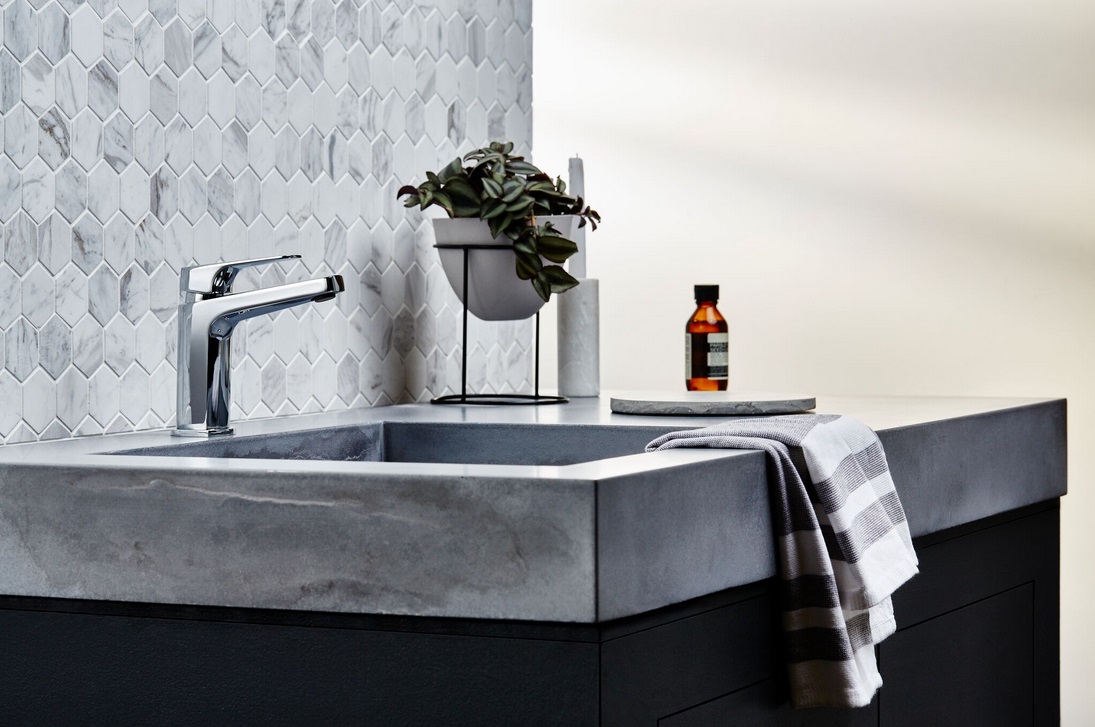 2019 trends from Methven
Think minimalism, matte black, metals and mesh with a pop of colour. The industrial look that has crept into bathrooms will remain a strong trend coming into 2019, according to bathroom fittings experts Methven.
Andy Grigor, Head of Design & Innovation at Methven, leading the team who creates and manufactures award-winning showers and tapware, commented that the trend towards softer and more tactile versions of industrial materials in the bathroom will be popular in residential homes.
"Industrial aesthetics have made their way into the bathroom from other areas of the house in a fun way, with simple shapes and matte surfaces, taking centre stage," says Mr Grigor.
Here are the top five bathroom design elements to consider to get that on-trend industrial look, according to Mr Grigor, who appears on Channel 10's Australia by Design.
Truth to materials


Concrete whether it's porous and unrefined to smooth and sanded, is growing in popularity with a strong nod to the use of urban industrial materials.
"We are seeing with increasing popularity concrete being used for floors and walls and even whole basins," says Mr Grigor. "It's also a great material for built-in shelving and hollowed out niches to hold towels and other accessories."


New nature


Natural materials such as wood, work to balance and create softness, and perfectly complement the industrial theme.
"The use of reclaimed wood, gives a great rustic and worn in charm while creating warmth and softness in juxtaposition with the colder industrial materials such as metal and concrete."
"The wood being used is also becoming rougher and less refined celebrating its imperfections, so reclaimed wood is a great choice and a way to incorporate recycled materials into your bathroom and house."
Wood can also be incorporated as a panel wall or with the use of storage boxes like crates and other accessories such as stools.
Black is here to stay


"While bathroom design is calling on industrial influences, there is a softer approach to the concept in bathrooms with the use of more modern materials such as matte black finishes," says Mr Grigor.
"Matte black tapware is very popular due to its ability to pair so well with other current design and style trends. For example, the use of natural materials like timber and stone in bathrooms has also been growing, and black tapware and accessories complement these beautifully.
"This has been the main driver for Methven to now offer our popular and award-winning halo-shaped Aio twin shower (pictured) in matte black."
With its intriguing sculptural contours and elegant forms, it not only looks amazing, but delivers a divine showering experience. The unique aesthetic of Aio (Matte Black twin shower RRP $1699, exclusive to Reece Bathrooms Australia from December 2018) makes it a suitable choice among those wanting to update their tapware or complete a modern bathroom renovation. The Aio uses Methven's Aurajet technology to deliver a highly efficient and luxurious shower with fan-like spray delivering more water contact to the body.


Putting metals to work


With reference to the urban city and industrial work spaces, the use of metals remains strong in bathrooms, with warmer tones such as copper, gold and bronze being utilised as eye-catching features.
"These metals can be used through tapware to even hairdryer holders, and suggest a touch of luxury against the industrial theme," says Mr Grigor.
"For bathroom accessories you can use antique-like cake moulds as containers or metal tins combined with mesh and raw string to get that rough, yet repurposed look."
Stainless steel rather than chrome is becoming a popular choice, with Methven's latest innovation – Turoa (pictured, shower rail RRP $448.99, Bunnings) – being crafted from this harder wearing material than traditional brass. It also avoids the need for chrome plating which is harmful for the environment, and is easier to recondition, allowing for re-use in the future. It also allows for greater design detail flexibility, and offers a high quality and precision-engineered product.
Pops of colour


Another trend that's continuing into 2019 is the mid-century Miami look, with a focus on soft colours and dusty pastels such as mint and powder pink.
"Classic 1950s patterns are also popular on tiles and textiles, as well as mid-century curves making a comeback," says Mr Grigor. "Pale wood can also beautifully complement the mid-century Miami colours."


About Methven:


Methven is an NZX-listed market-leading designer and manufacturer of showers, taps and valves. Our business is headquartered in Auckland where we design, develop and manufacture many award-winning products and
technologies. Our international operations see our products distributed in Australia, China, UK, Middle East, USA and Europe in addition to our home market of New Zealand. In 2016 we celebrated 130 years of innovation.
For more information, please got to www.methven.com